A new 6.4 magnitude earthquake has struck parts of Turkey and Syria that were laid waste two weeks ago by a massive tremor that killed around 45,000 people.
Turkish interior minister Suleyman Soylu said three people were killed and 213 were injured in the latest quake, as more buildings collapsed.
Monday's earthquake was centred in the town of Defne, in Turkey's Hatay province, one the worst-hit regions in the magnitude 7.8 quake that hit on February 6.
It was felt in Syria, Jordan, Israel and as far away as Egypt, and was followed by a second magnitude 5.8 quake.
A number of buildings collapsed in the new quake, trapping people inside, Hatay's mayor Lutfu Savas said.
He told NTV television that those trapped may be people who had either returned to homes or were trying move furniture from damaged properties.
Syria's state news agency Sana reported that six people were injured by falling debris in Aleppo.
The February 6 quake has killed nearly 45,000 people in both countries — the vast majority in Turkey. Turkish authorities have recorded more than 6,000 aftershocks.
HaberTurk journalists reporting from Hatay said they were jolted violently by Monday's quake and held on to to each other to avoid falling.
In the Turkish city of Adana, witness Alejandro Malaver said people left homes for the streets, carrying blankets into their cars. He added that people are really scared and "no one wants to get back into their houses".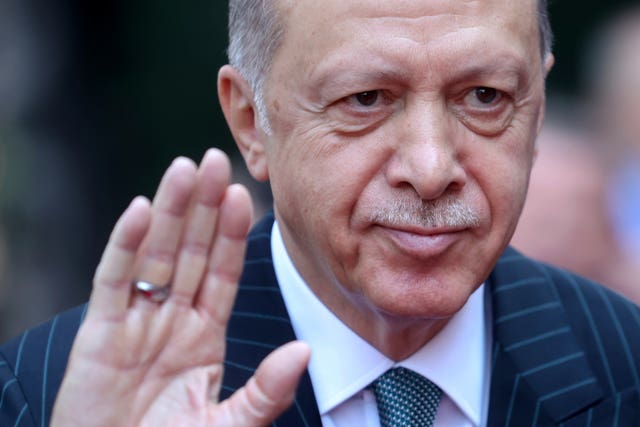 The Syrian Civil Defence group, also known as the White Helmets, reported that several people were injured in the rebel-held north west after they jumped from buildings or were struck by falling debris in the town of Jinderis, one of the towns worst affected by the February 6 earthquake.
The White Helmets added that several damaged and abandoned buildings collapsed in Syria's north west without injuring anyone.
The Syrian American Medical Society, which runs hospitals in northern Syria, said it had treated a number of patients — including a seven-year-old boy — who suffered heart attacks brought on by fear after the new quake.
Mr Oktay said inspections for damage were under way in Hatay, and urged citizens to stay away from damaged buildings and to carefully follow rescue teams' directions.
Authorities issued a warning to citizens to stay away from the coastline over the possibility of rising sea levels, but the warning was lifted a couple of hours later.
President Recep Tayyip Erdogan visited Hatay earlier on Monday and said his government would begin constructing close to 200,000 new homes in the quake-devastated region as early as next month.
On Monday, the AFAD disaster management agency raised the number of confirmed fatalities in Turkey from the earlier earthquake to 41,156. That increases the overall death toll in Turkey and Syria to 44,844.