The Government has outlined plans to extend strike laws to ensure doctors and nurses in hospitals provide a minimum level of cover, as the NHS braces itself for a four-day walkout.
The new regulations, which are open to consultation, would mean doctors and nurses have to provide a certain level of cover after being issued with a "work notice" by employers on what is needed to maintain "necessary and safe levels of service".
Consultations on minimum service levels have already run for ambulance staff, fire and rescue services and passenger rail workers, after the Strikes (Minimum Service Levels) Act became law.
The new consultation would cover urgent, emergency and "time-critical" hospital-based health services, with any rules possibly implemented next year.
It comes as NHS Providers, which represents health managers, has warned the health service is in "uncharted territory" as it faces four days of strikes by doctors in England, with thousands of patient appointments expected to be cancelled.
The NHS Confederation also said some patients are seeing their appointments and operations cancelled three times, adding that health leaders are worried ministers are failing to acknowledge the severity of the situation, instead seeing strikes as "business as usual".
Consultants are walking out in a dispute over pay on Tuesday and Wednesday this week as well as on October 2, 3 and 4.
Junior doctors, who have held 19 days of strike action since March, will walk out on Wednesday, Thursday and Friday this week, and October 2, 3 and 4.
This means that Wednesday's strike this week, plus the three days next month, will see both consultants and junior doctors absent from work on the same days.
Health and Social Care Secretary Steve Barclay said: "This week's co-ordinated and calculated strike action will create further disruption and misery for patients and NHS colleagues.
"My top priority is to protect patients and these regulations would provide a safety net for trusts and an assurance to the public that vital health services will be there when they need them.
"Doctors who started their hospital training this year are receiving a 10.3% pay increase, with the average junior doctor getting 8.8%, and consultants are receiving a 6% pay rise alongside generous reforms to their pensions, which was the BMA's (British Medical Association's) number one ask.
"In the face of ongoing and escalating strike action, we will continue to take steps to protect patient safety and ensure the health service has the staff it needs to operate safely and effectively."
The BMA said on Monday it had written to Prime Minister Rishi Sunak and Mr Barclay outlining the "key asks" needed to end the pay dispute.
It added there had been "constructive conversations" between the leader of the BMA consultants' committee and Government representatives about how the row might be settled.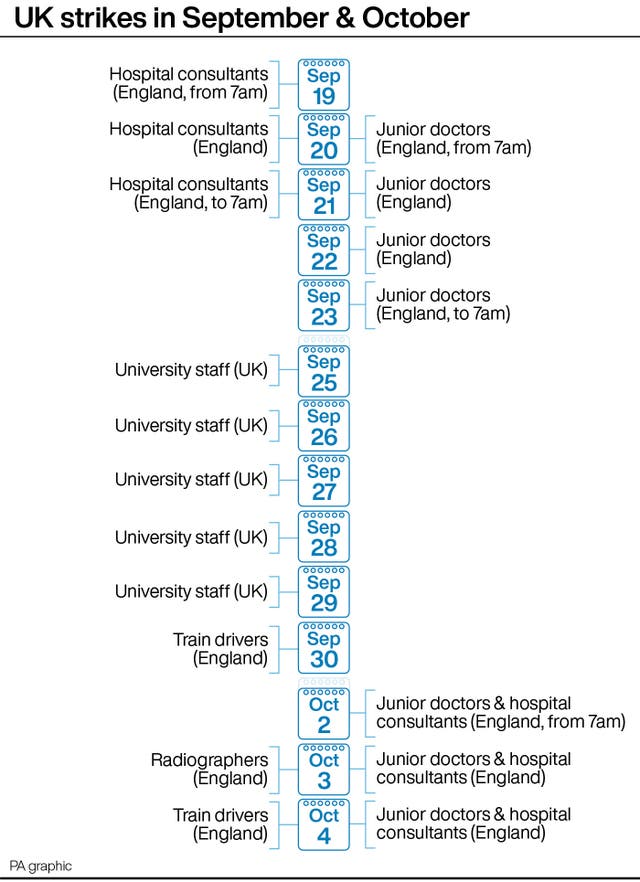 In the letter Dr Vishal Sharma, the chairman of the consultants' committee, said the BMA has always been clear that "strikes could be avoided if the Government was to present us with a credible offer that we could put to our members.
"We are willing to negotiate with government at any stage but for strike action to be stood down, we do need to be able to present our members with an offer and cannot cancel strikes to simply enter talks."
The letter said an agreement is now essential, adding: "We are seeking a pay package for 2023/24 above the level of RPI inflation for the 12 months until April 2023 (the date at which the award applies) that ensures our pay is not eroded further.
"This is not dissimilar to the settlement in Scotland for junior doctors and demonstrates that this is deliverable."
Professor Phil Banfield, chairman of the BMA council, said that planned strike action would preserve minimum staffing levels and consultants and junior doctors would not stage a "full walk-out".
He said: "These regulations add further to what we've seen from this Government in attempting to stifle the right for doctors to act collectively and fight for better pay and conditions in their workplace.
"Even before the recent Strikes Bill, the UK has some of the tightest restrictions on trade union activity in Europe, and now with threats that could see individuals sacked if they do not comply with these new laws it feels like another kick in the teeth to our profession, the very experts this government needs to deliver on its waiting list promise to the public.
"NHS employer organisations have also warned that such restrictions could make dispute situations more difficult for them in terms of agreeing local service levels of staffing, meaning such changes would be entirely counterproductive."
It comes as Saffron Cordery, deputy chief executive of NHS Providers, said this week's strike action "can't become the status quo".
Ms Cordery told the PA news agency: "We're in uncharted territory. It's all hands on deck in trusts across the country.
"Ten months of industrial action have seen almost one million routine appointments and procedures delayed.
"Strikes can't become the status quo. Only the Government sitting down with the unions can end this disruption."
She added that the proposed minimum service levels announced by the Government risk "worsening industrial relations at a time when we need Government and unions to get around the table and enter into talks to avert further escalation and disruption to patient care.
"This legislation, as well as the consultation announced today, doesn't address any of the issues underlying current strike action, including dissatisfaction with pay and working conditions."
Meanwhile the NHS Confederation, which represents all NHS organisations, said increasing numbers of patients, including cancer patients, are seeing their appointments rescheduled more than once due to strikes.
Matthew Taylor, chief executive of the organisation, said: "This is likely to be the biggest walkout the NHS has ever seen, will cause serious disruption, and put patients at the highest level of risk in living memory.
"Leaders are concerned that this dangerous situation is being underestimated by the Government, telling us that this feels much different and more complex than previous strikes, with most reporting greater difficulties in rota planning and having to cancel huge numbers of elective operations and appointments in advance.
"This is much worse than before as we're now seeing patients who have already had an operation cancelled due to industrial action be hit again with a cancellation to their rescheduled appointment.
"Leaders have also told us that this time round a higher number of operations and appointments for cancer patients are being cancelled, meaning that some of the very sickest patients may be suffering the most."
Mr Taylor said leaders were warning that industrial action is "making working conditions much worse, resulting in a further desire among staff to strike, or worse, leave completely".
Referring to the Prime Minister's pledge earlier this year to cut waiting lists, he added: "While there is no suggestion that industrial action is the cause of the backlogs, with over a decade of underfunding largely to blame, it is certainly not helping the NHS's continuing efforts to reduce waiting lists and is beginning to make the Prime Minister's pledge on targets look like a fantasy."