The Grenfell Tower estate is to have £30 million invested in it after a cash injection from central Government was matched by the council.
An additional £15 million has been earmarked for work on the Lancaster West estate, on which the fire-ravaged block still stands, Kensington and Chelsea Council said.
Chancellor Philip Hammond set aside £28 million in the budget to assist with the fallout from the disaster, including £15 million for the neighbourhood.
The local authority announced at a meeting on Wednesday a "visioning" exercise was under way with residents of the area and architects about the estate's future.
Leader Elizabeth Campbell also pledged that all survivors of the tragedy, in which 71 died, would have new homes by June, as tension ramped up over the speed of resettlement.
Those who escaped the inferno demanded "urgent action" on Thursday after it emerged four out of five displaced families are facing Christmas without a proper home.
Almost six months on from the deadly blaze, in which 71 died and hundreds were made homeless, 103 households from the block remain in hotel rooms.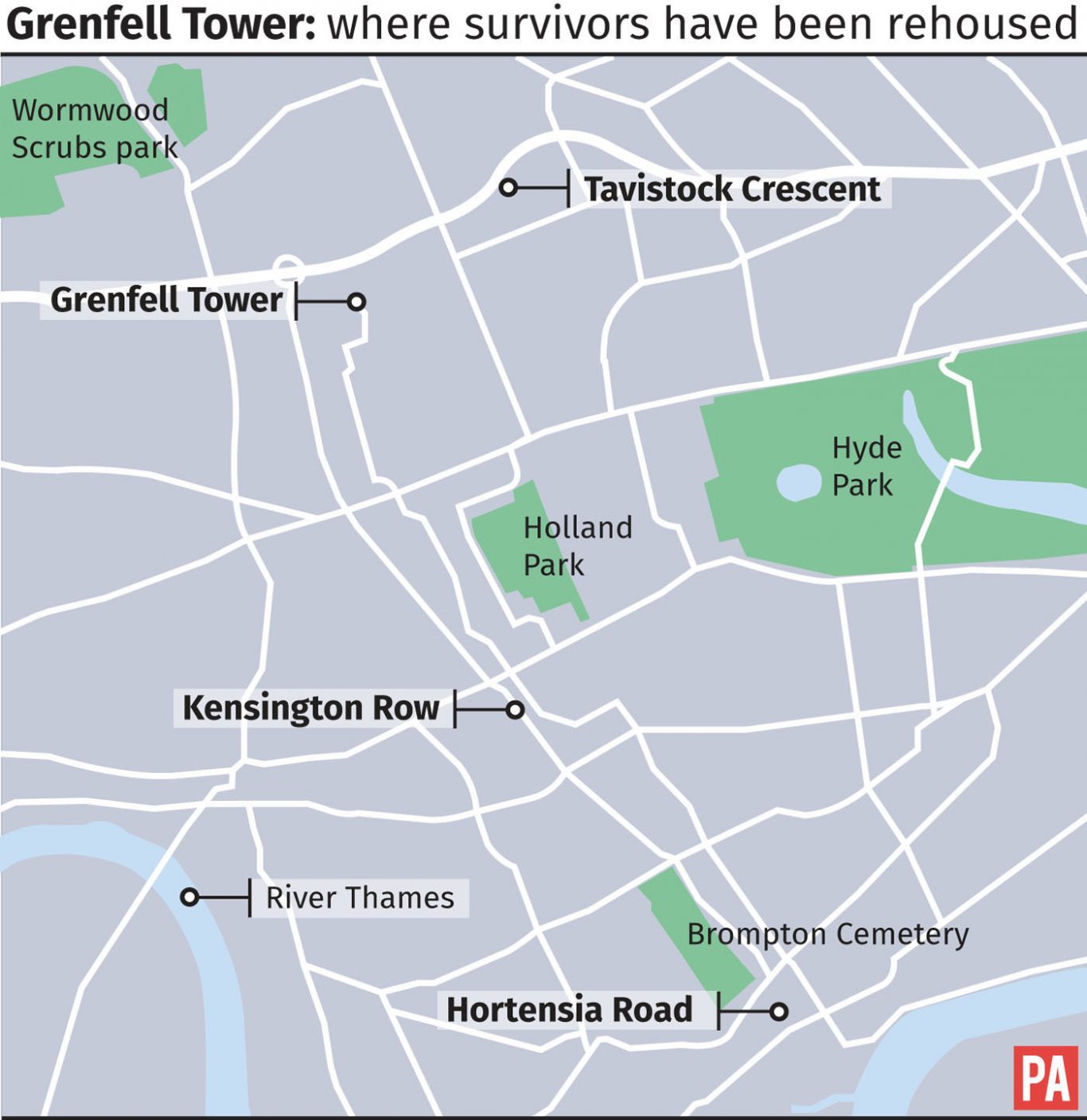 A further 11 are in serviced apartments and four are staying with loved ones, meaning 118 remain in emergency accommodations.
The local authority was accused of making "one broken promise after another", having previously expressed confidence every survivor would be out of emergency rooms by Christmas.
Ms Campbell said on Wednesday: "All of us sympathise with those who are still living in hotels with their children, especially at Christmas.
"I have always said we can only move at the pace at which victims and survivors feel comfortable: no-one should be rushed into making such an important decision about where they are going to live.
"However, I do accept, as we have heard tonight and last night at scrutiny, for some the pace is painfully slow."
Survivors have expressed frustration at how regularly the rehousing deadline has shifted, stretching back to the immediate aftermath of the June 14 inferno.
Days after the fire Theresa May initially appeared to pledge that everyone left destitute would be in temporary new homes within three weeks.
So far only 42 families have moved into permanent addresses, meaning the remaining 166, including 48 temporary places, could spend the festive period without a new home, survivors say.
Currently 29 of the families still in hotels have children, meaning many youngsters will likely wake up in hotel rooms on Christmas morning.
There were 209 families in need of rehousing following the disaster, according to updated council figures released on Wednesday.
Shahin Sadafi, chairman of Grenfell United, an elected body set up by survivors and bereaved relatives, said: "First it was three weeks, then six months now they are saying a year.
"For the survivors and affected families it seems like one broken promise after another.
"At this rate it could take the council almost two years to re-home people.
"We are talking about people who have been through the traumatic events and have lost so much, stuck in hotel rooms and make-do accommodation.
"No one can even start to rebuild their lives until they are in a place they can call home.
"It's been six months and we're now just a fortnight away from Christmas. It's not too late to put this right but it needs urgent action now."
In addition to those who have already moved into a permanent address, 49 have accepted permanent housing offers, making 91 accepted offers in total, Ms Campbell said on Wednesday.
It is hoped 300 houses will have been acquired by the council in time for Christmas, he added.
With the prospect of many survivors spending Christmas in hotels, festive events are being organised in the west London neighbourhood.
The Curve centre will be opened on Christmas Day, Boxing Day and New Years Day, Tuesday's meeting was told, and a communal Christmas meal is in the pipeline.